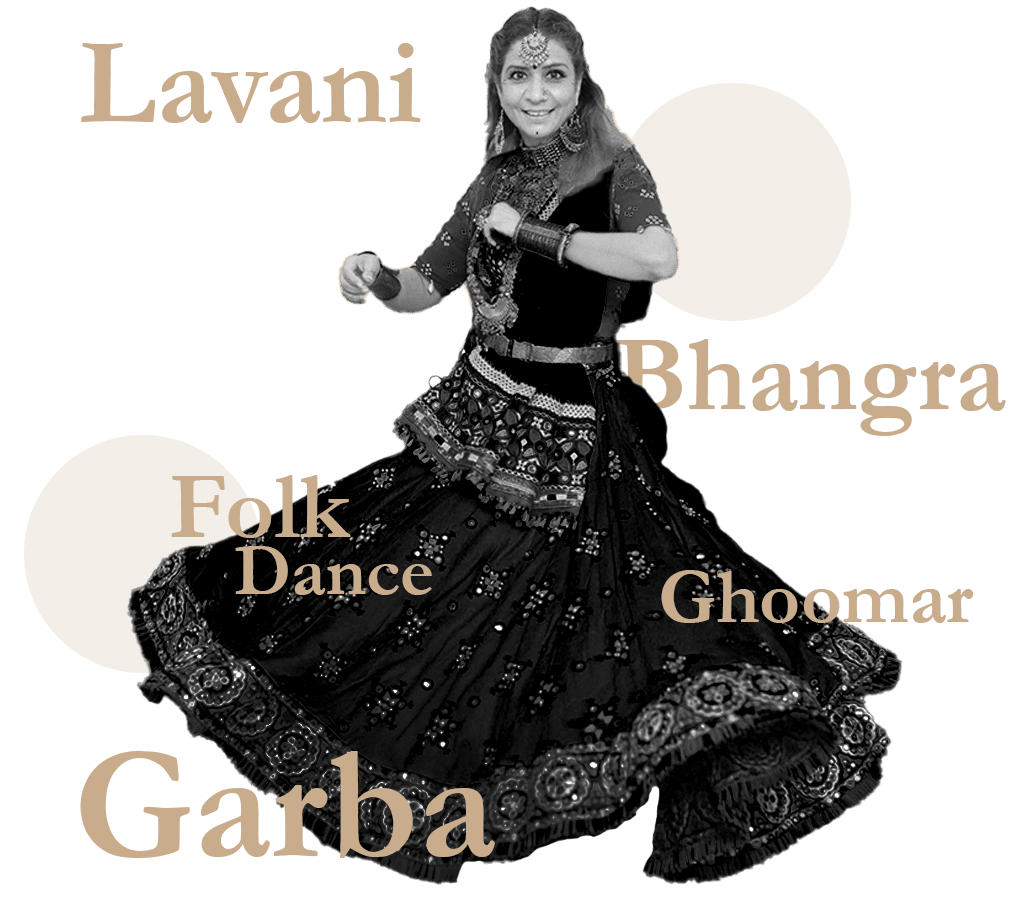 Indian folk and tribal dances are product of different socio-economic set up and traditions evolved over ages. In India, we have festivals and celebrations virtually every day, and dances are performed to express joy and festivity. This has added to the richness of Indian culture. Since every festival is accompanied by celebration, folk dances have become an integral part of our social milieu.
Indian Folk Dance Classes in Dubai
Folk dances at Powerhouse Studioz Dubai are performed for every possible occasion – to celebrate the arrival of seasons, birth of a child, a wedding and festivals, which are a plenty. The folk dances are extremely simple with minimum of steps or movement. Indian folk dances are full of energy and vitality.
Garba needs no introductions. This addictive dance form is the most famous at our studio. The fun-energy-filled garba dance classes at Powerhouse Studioz Dubai are famous all around the city. We provide the best groovy moves to your chaniya choli so that your reel is ready to break the internet and the stage.
Ghoomar dance is a playful, rhythmic, whirling dance of the Rajasthani community. Connect with local culture and experience the joy of swaying to the rhythms of Rajasthan. This class is perfect for beginners and also offers a rich experience for seasoned dancers.
Bhangra is filled in our blood. There is no family event or a party where we end it without Bhangra. We, at Powerhouse Studioz Dubai understand that in order to rock the party, you need Bhangra steps on command. That's why we have the best faculty from India to provide the latthe-chhathe and bring up your game.
Lavani the traditional dance form of Maharashtra has come a long way from the time women dancers performed mostly for their major festivals. Often celebrated in Ganesh Chaturthi to reality shows and mainstream films with popular songs such as 'pinga', 'zingaat', and 'Malaa Jau De', there is more to this art form which has evolved over the years. And Powerhouse Studioz Dubai's Lavani is all set to trace the social history of lavani in Maharashtra while presenting the form of mainstream dance form to propogate the energy in your feet.
Lavani celebrates makeover of colors on the body. So, you can wear the best of your maharastrian saree or kurta and join us in the humongous festivals of Maharashtra.
focuses on simplifying the nuances of this Indian classical dance masterpiece. Every dance taught by Powerhouse Studioz faculty is carefully broken down and fleshed out to aid the student.