United Arab Emirates is known for its opulence and grandeur and it's known as a dream wedding destination for many. With its breathtaking venues and luxurious settings, a wedding in Dubai is sure to be an unforgettable experience. But to make your special day even more memorable, consider adding the touch of elegance and entertainment that wedding choreography in Dubai brings. At the powerhouse studioz in Dubai, you can turn your wedding dance into a mesmerizing performance, leaving a lasting impression on your guests.
The Importance of Wedding Choreography
Wedding choreography is the art of designing and practicing dance routines specifically for weddings. It's not just about dancing; it's about creating a moment that will be cherished forever. Whether you're looking to impress your guests with a grand entrance or want to have a heartfelt first dance, choreography can turn your dreams into reality.
Powerhouse Studioz: Where Dreams Meet Dance
In Dubai, Powerhouse Studioz is synonymous with excellence in dance and choreography. It's a place where dreams meet dance, and where professionals are committed to turning your wedding dance vision into a reality. The studio offers a range of services tailored to your specific needs and preferences.
Tailored Choreography
The choreographers at Powerhouse Studioz are experts in creating customized dance routines. Whether you're into classic waltzes, contemporary hip-hop, or a fusion of various dance styles, they can craft a choreography that suits your taste, style, and personality. Your vision will be their inspiration, and they will choreograph a routine that's uniquely yours.
Professional Instructors
Your journey to becoming a dance sensation at your wedding begins with the guidance of professional instructors. The instructors at Powerhouse Studioz are not only skilled dancers but also experienced in teaching and choreography. They are patient, supportive, and dedicated to helping you master your dance routine, no matter your skill level.
Flexibility in Schedules
Powerhouse Studioz understands that planning a wedding is a busy and sometimes stressful task. That's why they offer flexible scheduling options to accommodate your wedding preparations. You can choose the timings that work best for you and your partner, ensuring that dance rehearsals fit seamlessly into your wedding planning schedule.
Unparalleled Facilities
The studio boasts state-of-the-art facilities, designed to make your dance practice sessions as comfortable and efficient as possible. With spacious dance floors, mirrored walls, and top-notch sound systems, you'll have everything you need to practice and perfect your dance routine.
Stress-Free Experience
Wedding planning can be overwhelming, but Powerhouse Studioz aims to make the choreography part as stress-free as possible. The professional choreographers will guide you through the process, from selecting the perfect music to mastering the dance moves. They'll take care of the details, allowing you to focus on enjoying the experience and creating beautiful memories.
Creating Your Wedding Dance
Your wedding dance is a reflection of your love story and your unique connection. Powerhouse Studioz is your partner in creating this special moment. Here's how they can help you every step of the way:
Song Selection
Choosing the right song is the first step in creating a memorable wedding dance. The choreographers at Powerhouse Studioz will help you select a song that resonates with your relationship and captures the emotions you want to convey. Whether it's a romantic ballad or an upbeat, energetic track, they'll guide you in making the perfect choice.
Dance Style
The studio offers a wide range of dance styles, from classical ballet and ballroom to contemporary and hip-hop. You can select a dance style that best represents your personalities and the mood you want to set for your wedding dance. Whether you want a timeless waltz or a dynamic salsa, Powerhouse Studioz has you covered.
Customized Choreography
Once you've chosen your song and dance style, the choreographers will start creating a unique choreography just for you. They'll design movements that are both impressive and manageable, taking into account your dance experience and comfort level. You'll have the opportunity to provide input and make adjustments along the way.
Rehearsals
Rehearsals are where the magic happens. With the guidance of your dedicated instructor, you and your partner will practice your choreography until it's second nature. The number of rehearsals can be tailored to your needs, ensuring that you feel confident and relaxed on your big day.
Performance Coaching
Dancing in front of an audience, especially at your wedding, can be nerve-wracking. The professionals at Powerhouse Studioz will provide performance coaching to help you overcome stage fright and deliver a flawless performance. They'll teach you how to connect with your partner and the audience, making your dance truly memorable.
Choreography for the Entire Wedding Party
If you want to include your bridal party or family members in your wedding dance, Powerhouse Studioz can create choreography for the entire group. This adds an extra layer of entertainment and surprise to your reception, and the studio's instructors will ensure that everyone is comfortable and ready to shine.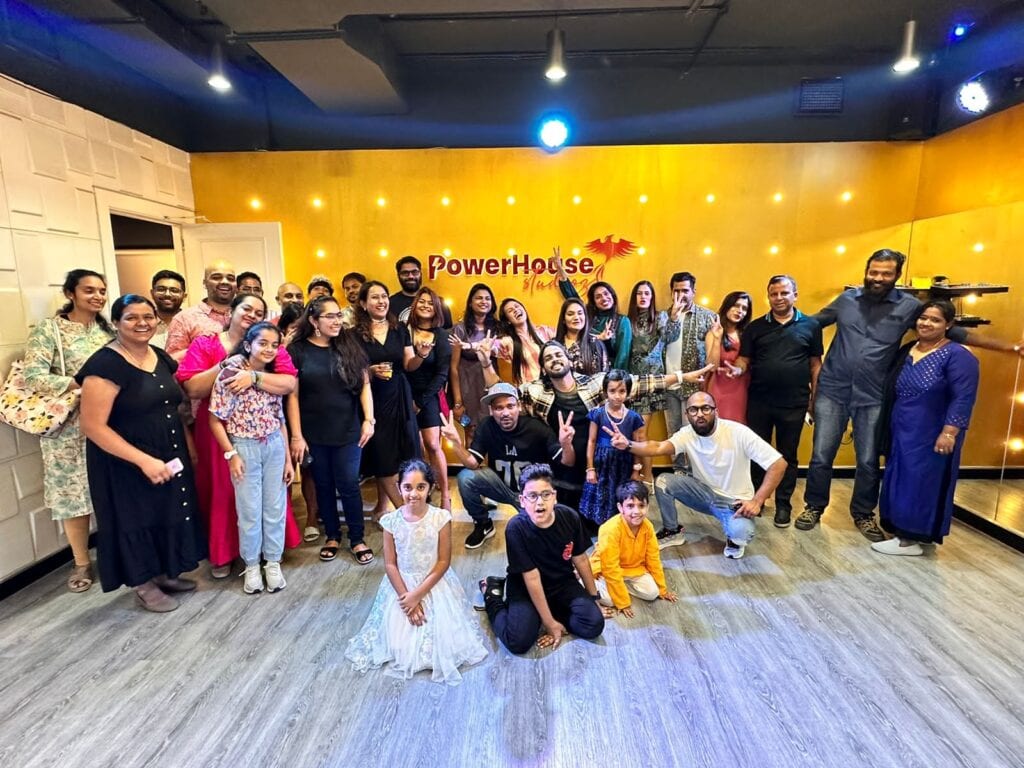 Video Recording
To help you track your progress and practice at home, Powerhouse Studioz offers video recording services. You can review your rehearsals and make notes on areas that need improvement. Having a visual record of your dance journey is both fun and helpful.
Your Wedding, Your Way
Your wedding day is a reflection of your love story, and your wedding dance should be no different. Powerhouse Studioz is dedicated to making your dance as unique and special as your relationship. Whether you want a traditional ballroom dance or a contemporary performance, they'll ensure your wedding choreography reflects your style and personality.
Making Lasting Memories
Your wedding day is filled with magical moments, and your first dance as a married couple is undoubtedly one of the highlights. With the expertise and guidance of Powerhouse Studioz, your wedding choreography will not only leave a lasting impression on your guests but also create a cherished memory that you and your partner will treasure forever.
Undoubtedly Dubai, with its extravagant venues and picturesque settings, is a perfect place for a dream wedding. To elevate your special day and create unforgettable memories, consider adding the elegance and entertainment of wedding choreography. Powerhouse Studioz in Dubai is your ideal partner in transforming your wedding dance into a mesmerizing performance. With their tailored choreography, professional instructors, flexibility, top-notch facilities, and stress-free experience, they are committed to making your wedding dance a unique and unforgettable experience. So, take the leap and let the Powerhouse Studioz in Dubai help you find your rhythm for a wedding dance that will be talked about for years to come.